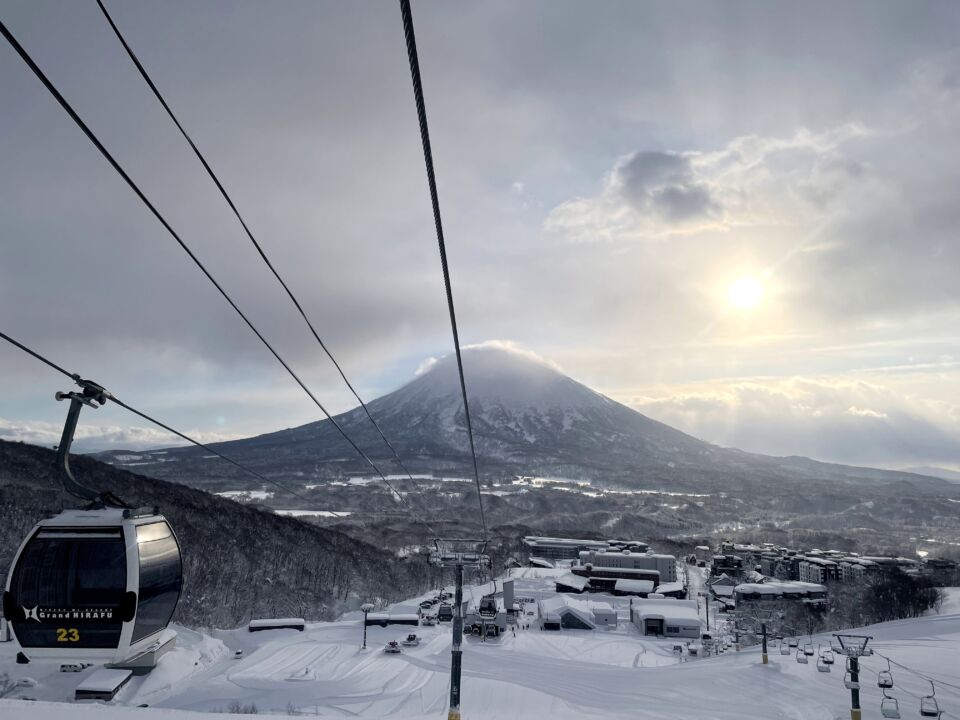 Experience a winter getaway like no other at Niseko Mt. Resort Grand Hirafu, the largest ski resort in the powder snow capital of the world! Due to its sheer size, Grand Hirafu boasts the most trails in Niseko United, and remains a hotspot for everything entertainment, dining, nightlife, and accommodation. The international atmosphere warmly provides visitors with a stress-free way to get around and sample all the area has to offer. With the addition of hospitable English-speaking staff almost anywhere you go, its easy to see why so many guests consider here a home away from home.
This blog will take a comprehensive dive into everything you need to know about Niseko Mt. Resort Grand Hirafu!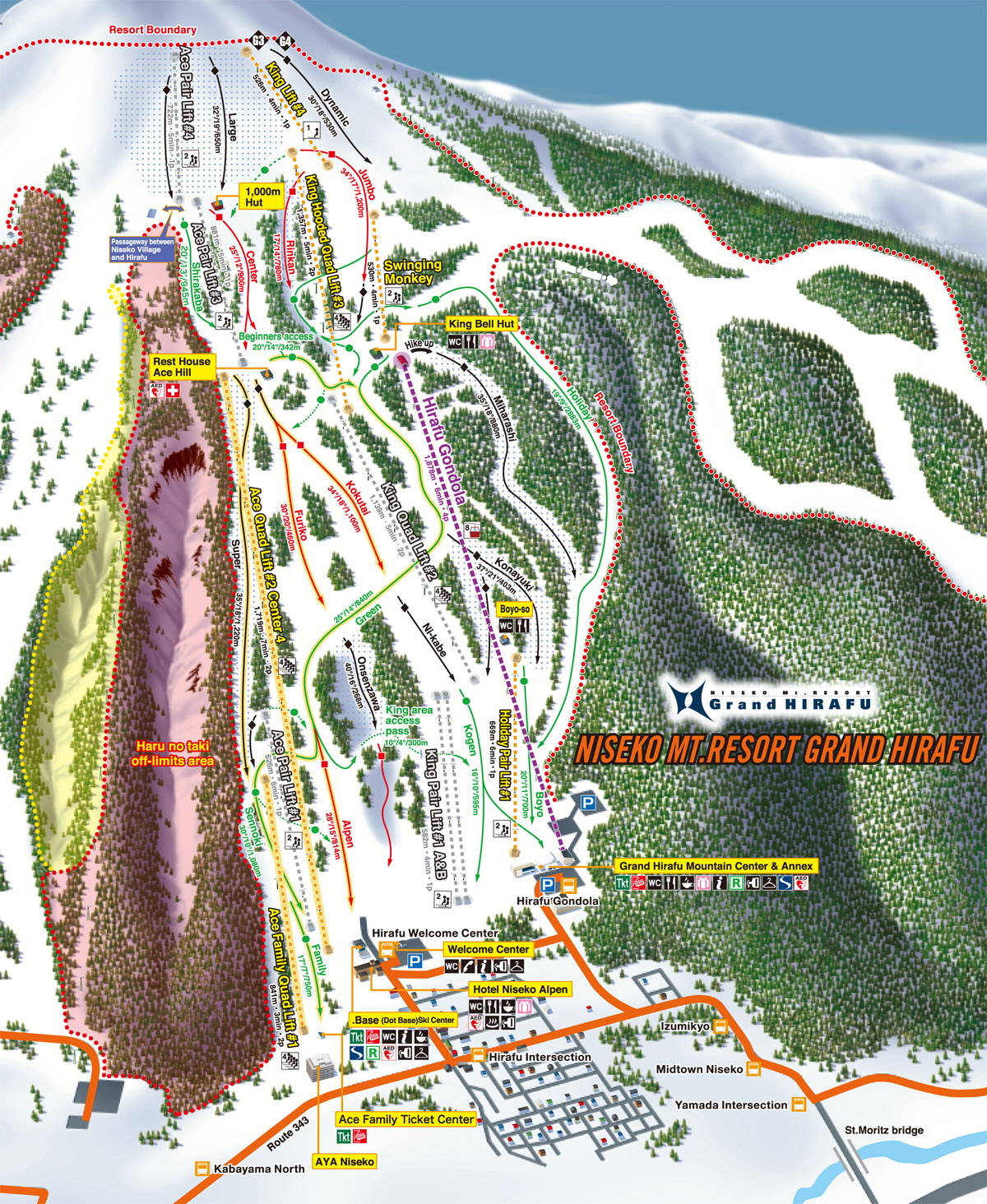 Hitting the Slopes
Grand Hirafu is no joke when it comes to amazing powder snow skiing and snowboarding options. Grand Hirafu alone will keep anyone busy with a remarkable 30 exciting trails evenly divided between beginner, intermediate, and advanced. Beginners can get off to a comfortable start with numerous trails perfect for novices, as well as highly-rated lessons with English-speaking instructors. With child-care and kids lessons, this is also a great place for a picture-perfect family retreat!
Furthermore, Grand Hirafu also has numerous thrilling off-piste skiing options, meaning even seasoned skiers will never have a dull moment! With a wide variety of terrain, the additional open and tree off-piste ski runs offer non-stop powder snow excitement. As the sun sets, this winter paradise is only getting started with popular night skiing options. So, make sure to grab your gear and hit the slopes for stunning sunset views of Mt. Yotei and well-lit night runs.
With over 15 lifts and gondolas, guests can experience the variety of trails and terrain with little to no wait time. Additionally, as the largest area in Niseko United, rental shops are available so visitors can have easy access top-notch gear and equipment at a reasonable price! If booked through the online system, guests can receive 10% off all rentals and lessons. Visitors can opt for the Niseko All United Pass, which offers big savings on access to all four ski resorts in Niseko United: Grand Hirafu, Hanazono, Annupuri, and Niseko Village. Discounted lift tickets are also available for Grand Hirafu and Hanazono, the bordering resort.
Accommodation
After a long day hitting the powder snow slopes, there's nothing better than kicking back and enjoying one of Grand Hirafu's luxurious hotels. Most accommodation sits right on the base of the mountain for ultimate convenience. While there's various choices, sure to fit every budget, here are some of the best Grand Hirafu has to offer:
1) Hotel Niseko Alpen
With both Western and Japanese-style rooms, Hotel Niseko Alpen can meet any guest's needs. Numerous on-site facilities are available including refreshing hot springs, an indoor pool, a hot stone sauna, karaoke corner, and more! In addition, the hotel's "Slalom" Restaurant specializes in delectable local cuisine with menus designed around each season.
2) AYA NISEKO
AYA NISEKO offers numerous exceptional rooms, apartments, and penthouses for rent, all with stunning views of Mt. Yotei. Experience deep relaxation with an in-hotel hot spring, spa, and yoga studio. This ski-in, ski-out hotel provides a ski valet service, meaning guests skip the wait and get right onto their next activity. For dining, AYA NISEKO's Ginger Restaurant offers up a delicious Western/Japanese-style fusion made from fresh and local Hokkaido ingredients.
Restaurants and Café
Alongside fine dining options available in hotels, there are several options for restaurants and café. The Mountain Hut Café is a particularly popular refuge from the cold powder snow. Here, enjoy a variety of lunch options, fresh-baked sweets, and a level of espresso not commonly found in Japan. Warm your body with rich, warm meals including Japanese curry, ramen, tempura udon, and more with a view!
Before gliding down your first power trail of the day, fuel up at the trendy Base Mountain Kiosk. They offer highly-rated coffees, teas, and other warm drinks, alongside freshly-baked goods. For bigger meals, Tanta An serves up reasonably-priced food, where guests can warmly recoup in awe of spectacular mountain views. Enjoy a warming coffee, alcoholic beverage, hot chocolate, or tea while you recover to carve the slopes again.
Entertainment, Activities, and Nightlife
No perfect trip is complete without the all of the fun that Hokkaido has to offer. For guests of Grand Hirafu, the action is never far out! Exciting winter options are available including snow shoe hiking tours and a state-of-the-art indoor golf simulator. The different shops will ensure that you're always stocked with all needed gear, goods, and some fun souvenirs! Grand Hirafu also has legendary nightlife compared to other areas in Niseko United. From live music, craft beer bars, and clubs, Hirafu has it all!