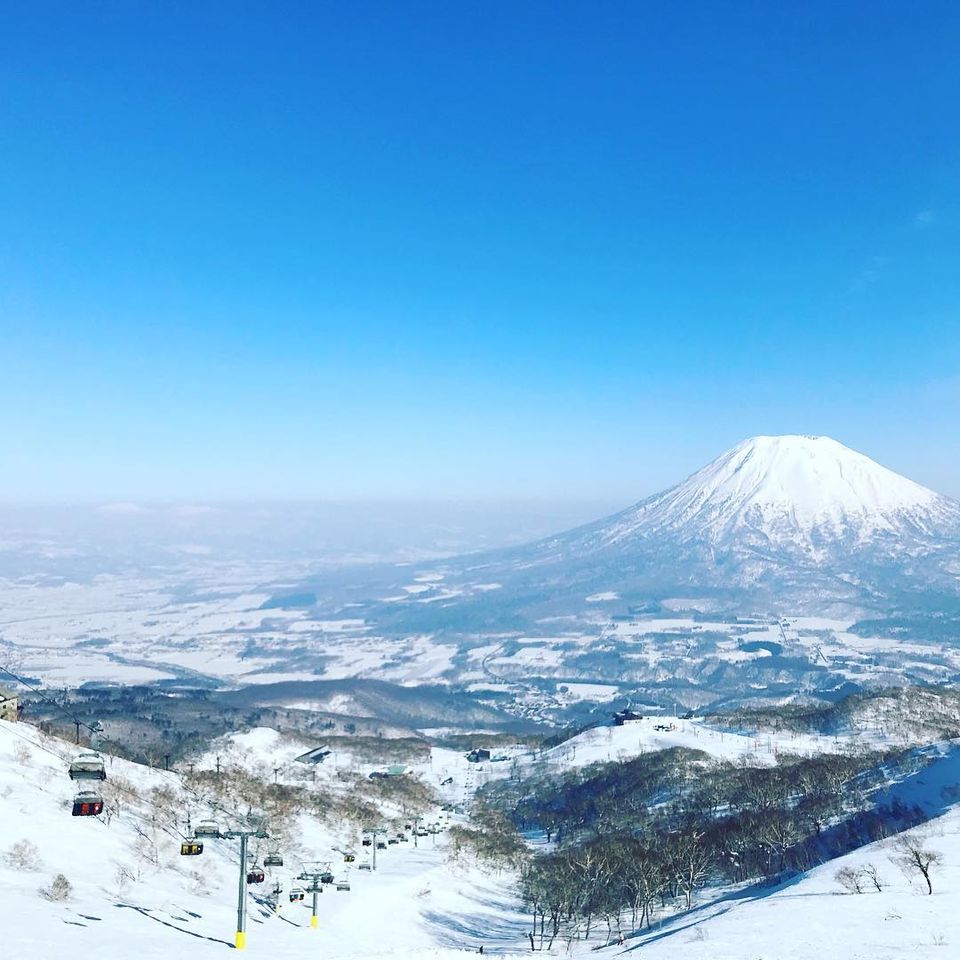 Famous for its pristine powder snow, nearly endless slopes and spectacular scenery, Niseko United is the winter getaway at the peak of skiing in Japan. Encompassing Grand Hirafu, Annupuri, Hanazono and Niseko Village Ski Resorts, the unique characteristics and charm of each area draws countless skiers from around the world every year with one goal in mind – to experience why Niseko United remains the best Hokkaido ski destination in Japan! Niseko Ski Resorts boast world-renowned powder snow, a wide variety of terrain, and stunning views of Mt. Yotei. As a result, foreign visitors can enjoy the Hokkaido ski experience of lifetime!
Let's take a look at what the Grand Hirafu, Hanazono, Annupuri and Niseko Village Ski Resorts in Niseko United, Japan has to offer!
Grand Hirafu
As the largest of the four areas, Grand Hirafu is famed for its fine-powder snow, vibrant nightlife, and beautiful accommodation. This exciting ski area alone has an impressive 30 runs. This includes an even split of beginner, intermediate, and advanced slopes. Furthermore, heaps of other options are available such as off-piste skiing, including fabulous open and tree ski runs. The well-known night skiing options are also an experience not be missed!
With the largest number of facilities and shops, Hirafu offers nearly endless options for entertainment, shopping, and dining. Here, foreign ski tourists have the most choices for ski/snowboard rentals, as well as lessons with an English-speaking instructor. Moreover, Grand Hirafu is very child-friendly with numerous options available for child-care, lessons, and fun activities for the family. For nightlife, the Grand Hirafu area is quite the rarity. Very few ski resorts in Japan offer the level of nightlife, restaurants, bars, and shops found in Hirafu.
Niseko Grand Hirafu + Hanazono access ski pass:
1-day ski pass: ¥6,300
2-day ski pass: ¥11,700
Niseko All Mountains 1-day ski pass: ¥8,100
Niseko All Mountains 4-day ski pass: ¥28,200
Hanazono
Directly interconnected with Grand Hirafu are the slopes of Hanazono, which are blessed with fluffy powder snow and heaps of trail options. Slopes are more limited with 9 marked runs which mostly accommodates beginner and intermediate skiers. However, Hanazono also offers popular off-piste skiing and an impressive terrain park that attracts many seasoned experts. Its orientation on the mountain also means Hanazono receives some of the highest-quality powder snow of Niseko United.
With accommodation, restaurants and entertainment being limited at Hanazono, many adventurers chose to lodge in Hirafu and hop over to Hanazono in the morning. However, the luxurious Park Hyatt Niseko Hotel is located at the base Hanazono for convenient, stylish accommodation near the slopes. Shuttle buses operate every 20-minutes, making the short trip convenient for those wanting to experience both Niseko ski resorts. For a pick me up, visitors can grab lunch at Edge Restaurant & Bar or a fresh coffee at the nearby café. Facilities also include a rental shop, child-care centre, and a ski school, which offers English lessons.
Niseko Grand Hirafu + Hanazono access ski pass:
1-day ski pass: ¥6,300
2-day ski pass: ¥11,700
Niseko All Mountains 1-day ski pass: ¥8,100
Niseko All Mountains 4-day ski pass: ¥28,200
Annupuri
A little further from Hirafu lies Annupuri, which claims highly sought-after slopes for chasing deep powder snow. Yet, don't let the quiet, old-school atmosphere of Annupuri fool you – Niseko Annupuri Ski Resort offers some pretty incredible skiing/snowboarding options. With 13 exciting slopes and perhaps the best sidecountry skiing options in Niseko United, Annupuri is nothing short of a winter paradise. Annupuri is especially popular among families with slopes being distributed evenly among different difficulty levels. It also provides easy access to Moiwa Ski Resort for additional slopes (**Moiwa is not included in the Niseko All Mountain Pass).
Unlike the more crowded, westernized areas of Hirafu and Hanazono, Annupuri offers a better look into the true Japanese lifestyle and culture of Niseko. Moreover, Annupuri Ski Resort offers true ski-in/ski-out Niseko accommodation. The area also offers both hotels and traditional Japanese-style inns that are generally less expensive than other options in Niseko ski resorts. Another benefit is the close proximity to the Konbu hot springs, which refresh the mind, body and spirit after a long day hitting the powder slopes.
Annupuri 1-day ski pass: ¥5,000
Moiwa 1-day ski pass: ¥4,800
Niseko All Mountains 1-day ski pass: ¥8,100
Niseko All Mountains 4-day ski pass: ¥28,200
Niseko Village
With an average of 18 metres of snow fall a season, Niseko Village is well-known for its impressive collection of 27 powder snow covered marked trails. The 890-metre vertical drop, alongside access to off-piste and sidecountry terrain, makes for the ultimate skiing/snowboarding destination. Of the 27 marked trails, there are 13 beginner, 9 intermediate and 4 advanced trails to enjoy. Niseko Village is particularly popular with beginners due to its varied beginner slopes, English-accommodating lessons, and ski-in/ski-out accommodation. Child care centres are also available.
Although Niseko Village tends to be a bit quieter than Hirafu and Hanazono, it is also one of the more expensive locations in Niseko United. However, with the price tag comes quality. For example, the lavish Hilton Niseko and The Green Leaf Hotel offer exquisite rooms, ski-in/ski-out accommodation, hot springs, and mouth-watering restaurants and bars all on-site.
Niseko Village ski pass:
1-day ski pass: ¥6,200
2-day ski pass: ¥11,400
Niseko All Mountains 1-day ski pass: ¥8,100
Niseko All Mountains 4-day ski pass: ¥28,200
*All shown ticket prices refer to pricing available during the peak skiing season for adults. Prices are not final and are subject to change.
Access to Niseko United from Tokyo:
From Haneda Airport to New Chitose Airport – 90 minutes
From New Chitose Airport/Sapporo to:

Grand Hirafu – Shuttle Bus – Approx. 3 hrs. 30 mins.
Hanazono – Shuttle Bus to Hirafu – Approx. 3 hrs. 30 mins, then transfer to the Niseko United Shuttle Bus A-Line/B-Line – Approx. 15 mins.
Annupuri – Shuttle Bus – Approx. 3 hrs.
Niseko Village – Shuttle Bus – Approx. 3 hrs. 15 mins.