If you're on the hunt for world-renowned skiing, get ready to launch into the deep powder paradise of Annupuri. This fluffy powder snow area is truly an all-in-one hotspot destination. Encompassed in this area are varied levels of trails, numerous off-mountain luxuries, and tranquil hot springs and accommodation. Unlike other Western-style areas of Niseko United, Annupuri does things different. Here, discover the quaint feeling of this atmospheric town, which rings true to old-school authenticity of Japan.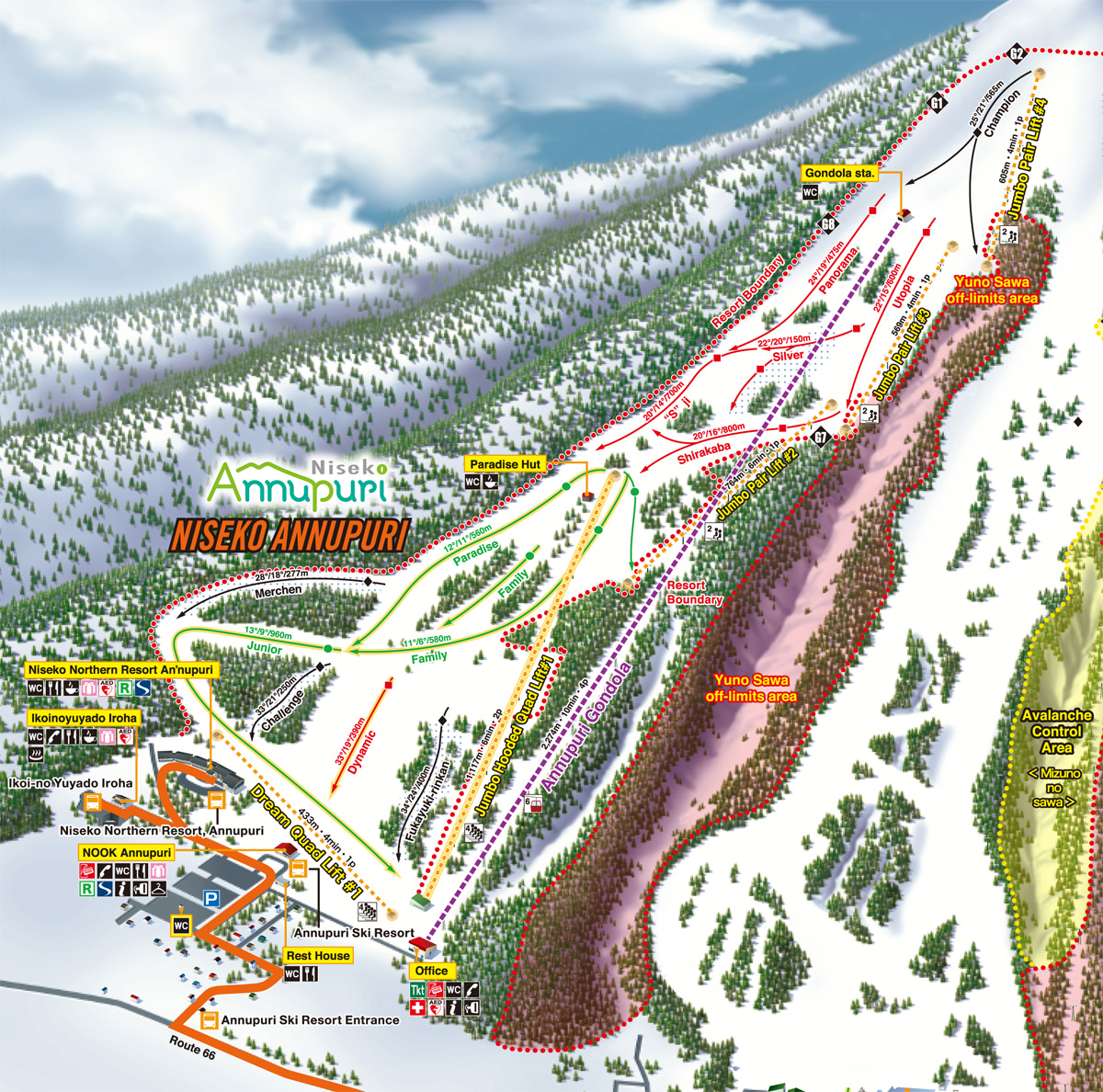 Skiing
The versatility of the Annupuri ski area attracts skiers and snowboarders of all levels. Everyone will find slopes perfect to their respective level with 13 marked trails evenly split between beginner, intermediate, and advanced. The diverse trails tend to make this area are great base of operations for families and groups. However, at Annupuri, ski lessons are only taught in Japanese. So, absolute beginners may want to check out a ski school in another area. With the All-Mountains Pass, gain big savings and access to all other areas of Niseko United – Grand Hirafu, Hanazono, and Niseko Village. All three of these areas have lessons with English-speaking instructors.
For upper-level adrenaline junkies, Annupuri will not disappoint. This area has arguably the best off-piste skiing options in Niseko United and exhilarating natural powder bowls to carve. They also have a high-quality rental shop for the convenience of visitors coming without gear. Annupuri Ski Resort also directly connects to Moiwa Ski Resort, enabling some intense interconnected routes. Unfortunately, access to Moiwa isn't included in the All-Mountains Pass, so entrance needs to be purchased separately.
Winter Activities
For children, Kids Land Annupuri offers a safe and entertaining course to enjoy riding on sleds and tubes. Overall, Annupuri isn't as action packed other areas, but that's nothing a quick bus ride won't fix. Right next door, at Niseko Village, cruise around secret powder paths in snowmobiles or opt for some cross-country skiing. Additionally, while not just for winter, the closely located Konbu Hot Springs certainly are an activity enhanced by the chill of the cool winter's air and snow-covered scenery.
Accommodation
Kick start your day at one of the cosy Western-style hotels or Japanese-style inns that rest around the mountain's base. With numerous options for ski-in/ski-out accommodation, guests will have no trouble getting on and off the slopes. Lodging options in Annupuri tend to be more reasonably priced compared to the livelier areas of Niseko United. Though, the quality of hospitality and accommodation is not lacking. Those looking to become one with the stillness of Hokkaido's nature will surely be in for a treat here.
Restaurants & Café
Annupuri has a little less to offer when it comes to dining options, but still boasts a great selection. Here are a few of our favourites:
Rest House
A fantastic place to warm up with a steaming bowl of ramen or hearty curry before getting back on the slopes.
Paradise Hut
Grab a hot meal and warm drink at this heated mountain recluse.
ECLAT
This fusion restaurant is a popular choice for high-quality buffet dining with great bang for buck.
Come experience the natural wonders and deep powder snow of Annupuri!