Long-famed for its pristine powder snow and nearly endless varied trails, Niseko has become the go-to destination for winter enthusiasts in Japan! Alongside its famed powder snow and diverse slopes, Niseko boasts an impressive variety of jaw-dropping attractions and scenery to behold. This includes incredible views of Mt. Yotei, nicknamed the "Mt. Fuji of Hokkaido" right from the slopes!
From exciting nightlife and mouth-watering restaurants to stunning accommodation – Niseko truly has it all. With surprisingly easy access, this highly English-accommodating ski area firmly grasps its place as the must-visit powder snow ski resort area in Japan! This blog will take a thorough look into what slopes Niseko has to offer, the best courses, and the need-to-know rules to stay safe.
Niseko United
The most popular slopes in Niseko consist of the 4 ski resorts that comprise Niseko United: Grand Hirafu, Hanazono, Annupuri, and Niseko Village. With the reasonably priced All-Mountains Pass, visitors gain access to the 70+ marked trails, terrain parks, and off-piste ski runs available at these 4 ski resorts! Each area has unique charm and an assortment of restaurants, accommodation, and adventure that allows visitors to vacation in style.
In this blog, we will discuss what each unique area has to offer for skiing/snowboarding. For additional information on each area, pricing, accommodation, and access, please check our previous blog on Niseko here.
1) Grand Hirafu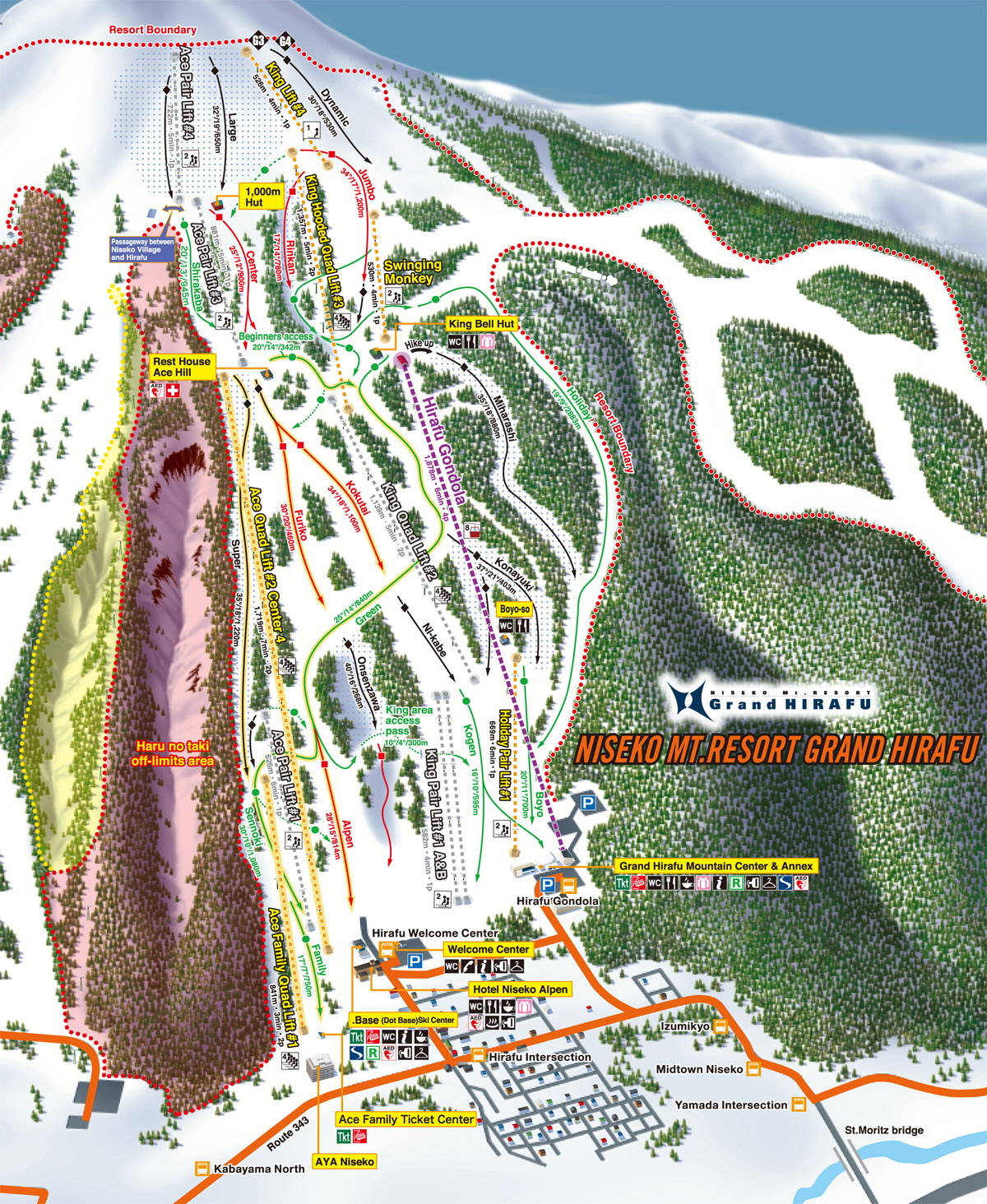 Grand Hirafu is a popular choice for lodging due to its international-style town and large assortment of 30 marked trails. This decently sized ski resort is equally divided between beginner, intermediate, and advanced courses. For beginners and travellers without gear, Grand Hirafu is one of the most accommodating ski resorts in Niseko. Visitors can rent from a wide range of skiing/snowboarding gear from the rental shop, and even opt for lessons taught by English-speaking instructors.
For beginners, the Hirafu Family Trail is a solid beginner course perfect for novices looking to get started and gain confidence on the slopes. Additionally, everyone can enjoy the winter wonder of the popular powder snow night skiing options at Hirafu. For those at an intermediate and advanced level, a remarkable variation of terrain is available to carve. This includes exciting courses from the Hirafu Peak Gate, which stands at 1,180 metres! Alongside marked trails, numerous off-piste options are available including marvellous open and tree ski areas. Furthermore, Hirafu is directly interconnected with Hanazono Ski Resort, making for some exciting options to access extra terrain.
2) Hanazono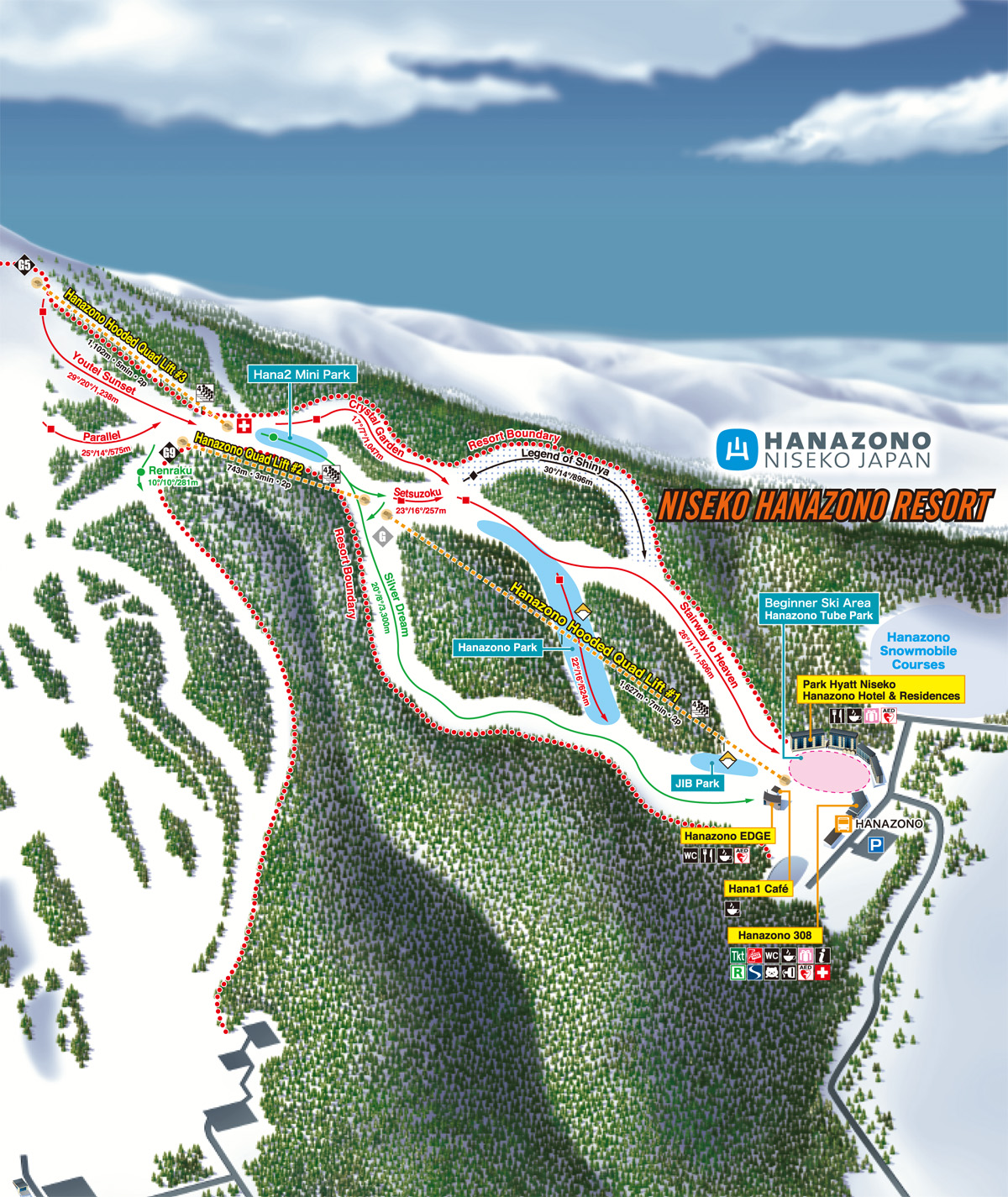 Hanazono is smaller than Grand Hirafu with only 9 marked trails. However, with the same powder snow and direct connection to the Hirafu trails, it rivals the excitement of other resorts! The slopes at this ski resort tend to cater more towards beginner and intermediate skiers with only 1 black course available. The majority of courses are quite gentle and there's even a magic carpet at the base for beginners. However, more advanced skiers/snowboarders shouldn't overlook what Hanazono has to offer! This ski resort offers exciting off-piste tree skiing and the famous strawberry and blueberry field tree runs. Together with their gnarly terrain park, which boasts a variety of kickers and banks, any thrill seeker will be satisfied.
3) Annupuri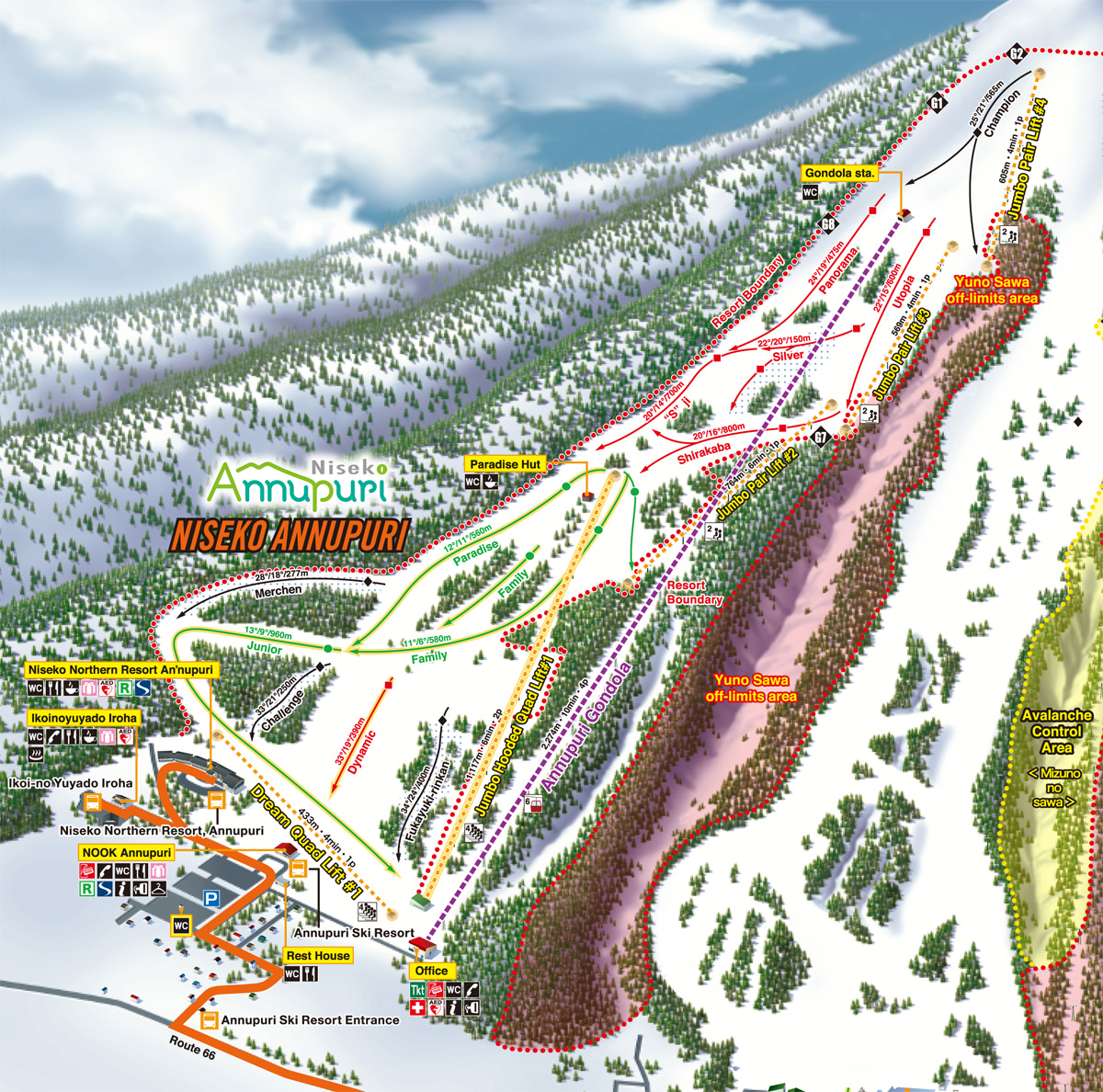 Annupuri is another hotspot for powder snow skiing. With 13 marked trails and access to highly sought-after sidecountry skiing, this ski resort has some great course options. From the Annupuri Peak Gate (Gate 2), experienced skiers can get a taste of the natural bowls and off-piste skiing that Annupuri is famous for. On the other side, marked trails are split fairly equally between skill levels with some relaxed slopes great for beginners such as their Paradise and Family trails.
4) Niseko Village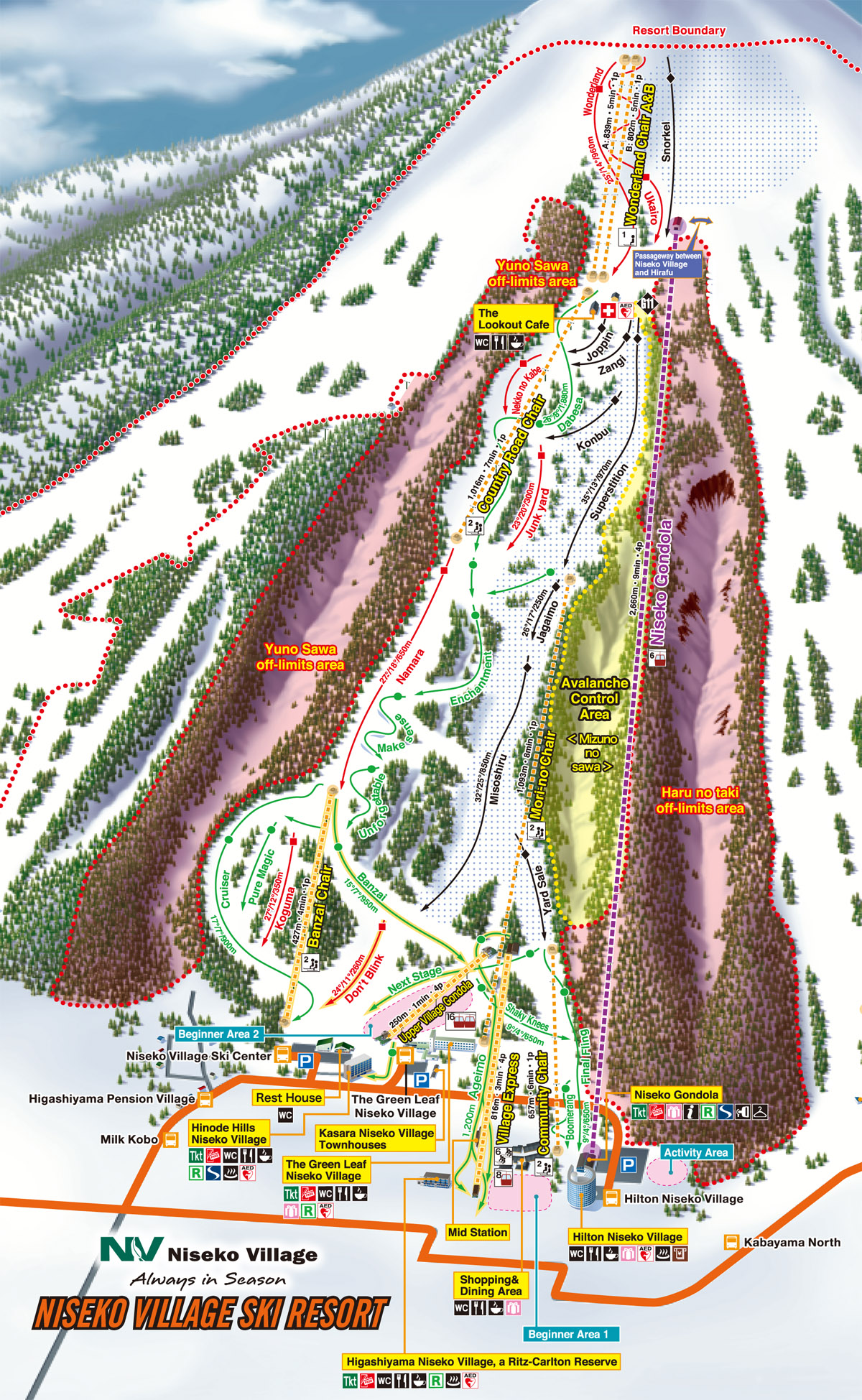 Niseko Village has something for everyone with 27 marked trails and off-piste skiing options available. This ski resort is especially popular with low-level skiers with 13 beginner courses, the availability of English-speaking instructors, and abundance of ski-in/ski-out accommodation. Popular low-level trails include the Pure Magic and Banzai trails. This area also offers quite a few options for intermediate and advanced skiers, such as the red-diamond Wonderland and black-diamond Snorkel trail. However, it is recommended that those looking specifically for off-piste skiing and terrain parks check out some of the other areas of Niseko United.
Moiwa
Unfortunately, Niseko Moiwa Ski Resort is not included in the Niseko United All Mountains Pass causing a lot of visitors to miss out on the awesome powder here. Yet, in turn, the 8 marked trails and off-piste areas are much less crowded compared to the Niseko United areas. It has good options for all levels – including a magic carpet for novices and intense off-piste tree runs. From Gate 6, visitors can experience the exciting Giant run or Sky slope for upper-level trails.
Course Rules
In order to reduce and prevent accidents on the slopes, as well as keep guests safe, Niseko has issued the following rules:
Don't go outside of boundary ropes or into closed areas. When gates are closed, skiing/snowboarding in those areas is prohibited.
To go out-of-bounds, you must always use open gates. Additionally, to enter these areas, visitors require helmets and an avalanche beacon, which can be rented at some ski shops.
Off-limit areas must not be entered.
Children younger than the 6th grade may not enter out-of-bound areas unless accompanied by an older companion.
**Course rules are strictly enforced and those who do not abide may have their passes revoked and become banned from using the resort facilities. Out-of-bound search and rescue operations will incur a large fine.